Embracing the Charm of Ayvalık: An Unforgettable Adventure
Hello everyone, travel enthusiasts and adventurers alike! Today, I invite you on a virtual journey to the picturesque town of Ayvalık, nestled in the province of Balıkesir, Turkey. Join me and my four companions as we reminisce about our memorable exploration of this Aegean gem, a week filled with historical discoveries, tranquil turquoise beaches, and indulgence in the local culinary delights.
Ayvalık, with its ancient cobblestone streets, golden sandy beaches, and aromatic cafés, captivated our hearts. It masterfully combines history, nature, and gastronomy into an exquisite cocktail of experiences, ideal for those with a penchant for adventure and a discerning palate.
On June 25, 2023, we initiated our voyage. In the early morning hours, we journeyed from the vibrant metropolis of Istanbul to the peaceful seaside town of Ayvalık. This Aegean haven, located just a four-hour drive away, has proven to be an indispensable stop on any travel itinerary dedicated to uncovering Turkey's hidden gems.
Our adventure was a dive into Ayvalık's captivating aura. This coastal town greeted us with its unique culinary delights, featuring the legendary Ayvalık toast as the opener to a grand feast of local delicacies. Our journey was interspersed with refreshing swims in the calming waters of Sarımsaklı beach and breathtaking sunsets viewed from the Şeytan Sofrası viewpoint.
The quaint village of Küçükköy won our hearts with its cozy vibe. We found solace in our Airbnb accommodations, while our evenings were dedicated to the charming Samta Butik Hotel cafe, which soon became our go-to spot. Here we also encountered the delightful Yoda, the resident canine, who quickly won our affection. Our exploration of Ayvalık city introduced us to the local favorite lor dessert, a richly sweet treat that soon became a staple in our diet.
Our expedition concluded with a heartwarming farewell to Ayvalık, as we set our course back to Istanbul. The memories of serene beaches, deep-rooted history, and unmatched flavors of this enchanting town filled our hearts, making our trip an unforgettable experience. So, let's get started!
Ayvalık: A Town Rich in History and Heritage
Nestled in Turkey's Aegean region, Ayvalık is a town that whispers tales of its ancient past at every corner. With roots dating back to the Ionians, Romans, Byzantines, and Ottomans, Ayvalık is a vibrant collage of cultures that shaped its identity over millennia.
The town rose to prominence during the Ottoman Empire, particularly as a hub for olive oil production, a tradition that beautifully survives to this day. Yet, perhaps the most notable historical milestone was the Greek-Turkish population exchange in 1923, which significantly influenced Ayvalık's cultural tapestry.
Today, the town's streets are lined with Ottoman-style houses and Greek Orthodox churches, forming a unique architectural landscape. Each structure narrates a chapter from the town's history, making Ayvalık a must-visit for anyone fascinated by the past. As you journey through Ayvalık, prepare to step into a living history book, filled with tales of resilience, transformation, and harmony.
Must-Visit Spots in Ayvalık: Unveiling Aegean Wonders
As you wander around Ayvalık, you'll find yourself intrigued by its cultural richness and natural beauty. Remember, Ayvalık's beauty is not just in its landmarks, but in its streets, its people, and its way of life. Take your time, slow down, and truly experience this Aegean gem. Let's explore some of the must-visit places in this idyllic Aegean town:
Devil's Feast (Şeytan Sofrası)
Nestled atop a hill, overlooking the breathtaking Ayvalık archipelago, lies Şeytan Sofrası, also known as the Devil's Feast. This majestic spot is as much a treat to the imagination as it is to the eyes, steeped in local lore and offering panoramic views that remain etched in memory long after the visit.
Şeytan Sofrası entices visitors with its compelling blend of natural beauty and mystical legend. The local folklore suggests a fascinating association with the devil, hence its intriguing name. These tales of intrigue and mystery add an additional layer of allure to the site, making it a must-visit landmark in Ayvalık.
Visiting Şeytan Sofrası, one can't help but be captivated by the mesmerizing vista unfolding from the hilltop. The sweeping view encompasses the scattered Ayvalık islands, the shimmering Aegean sea, and the sprawling landscape bathed in a golden hue. As the day fades into the evening, the sun dips below the horizon, painting a breathtaking canvas of brilliant oranges, purples, and pinks. The surreal landscape, coupled with the transition of colors, creates a spectacle that is nothing short of mesmerizing.
What truly sets Şeytan Sofrası apart, however, is the emotional imprint it leaves on its visitors. The combination of captivating legends, awe-inspiring panoramic views, and the ethereal sunset creates an experience that transcends the physical aspects of the location. It's more than just a visual treat; it's an immersion into a mesmerizing tale told by nature itself, one that embeds itself deep within your memories, evoking a sense of awe every time it is recalled.
In essence, Şeytan Sofrası stands as a symbol of Ayvalık's rich cultural lore and breathtaking natural beauty, making it a vital chapter in any Ayvalık adventure.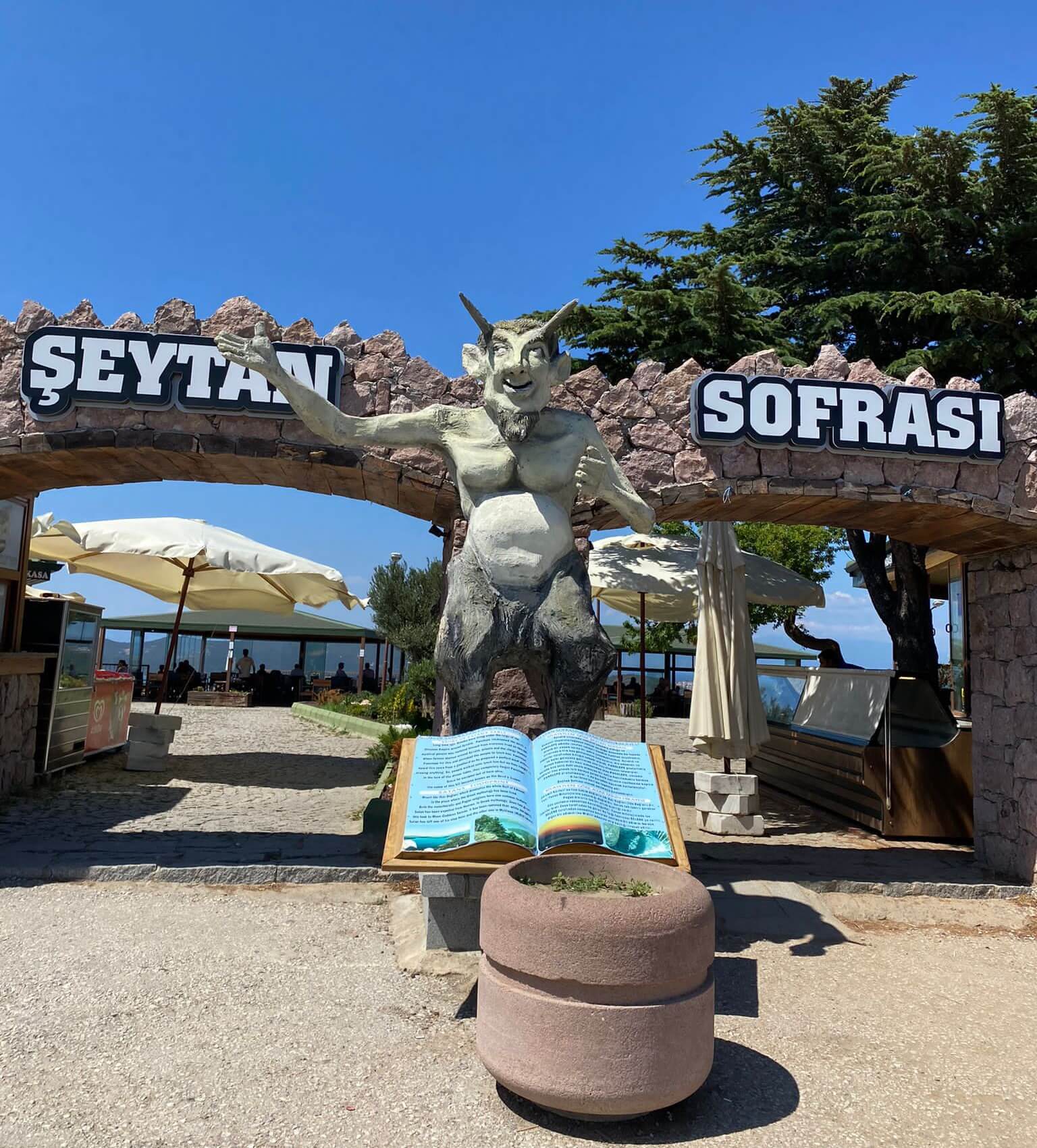 Cunda Island (Alibey Island)
Cunda Island, also known as Alibey Island, is a tranquil paradise located in the Aegean Sea. As the second largest of the Ayvalık Islands, it is the only one open to settlement. Connected to the mainland via a bridge constructed in 1964, a significant landmark as Turkey's first strait bridge, the island serves as an easily accessible haven away from the hustle and bustle of the city life.
Steeped in history and soaked in the unique ambiance of Ayvalık, this charming island offers a peaceful retreat. Its narrow streets, dotted with historic stone houses, offer stunning views of the vast expanse of the Aegean Sea, drawing us in with its serene beauty.
Cunda Island served as our window into the region's rich past. The island's cultural heart is the Rahmi M. Koç Museum, nestled within the historic Taksiyarhis Church, which provided a valuable insight into Ayvalık's cultural heritage. As we wandered through the narrow alleys, every corner seemed to echo stories from the past, giving us the feeling of strolling through a living, breathing museum. This blend of tranquility and history made our visit to Cunda Island a memorable part of our Ayvalık adventure.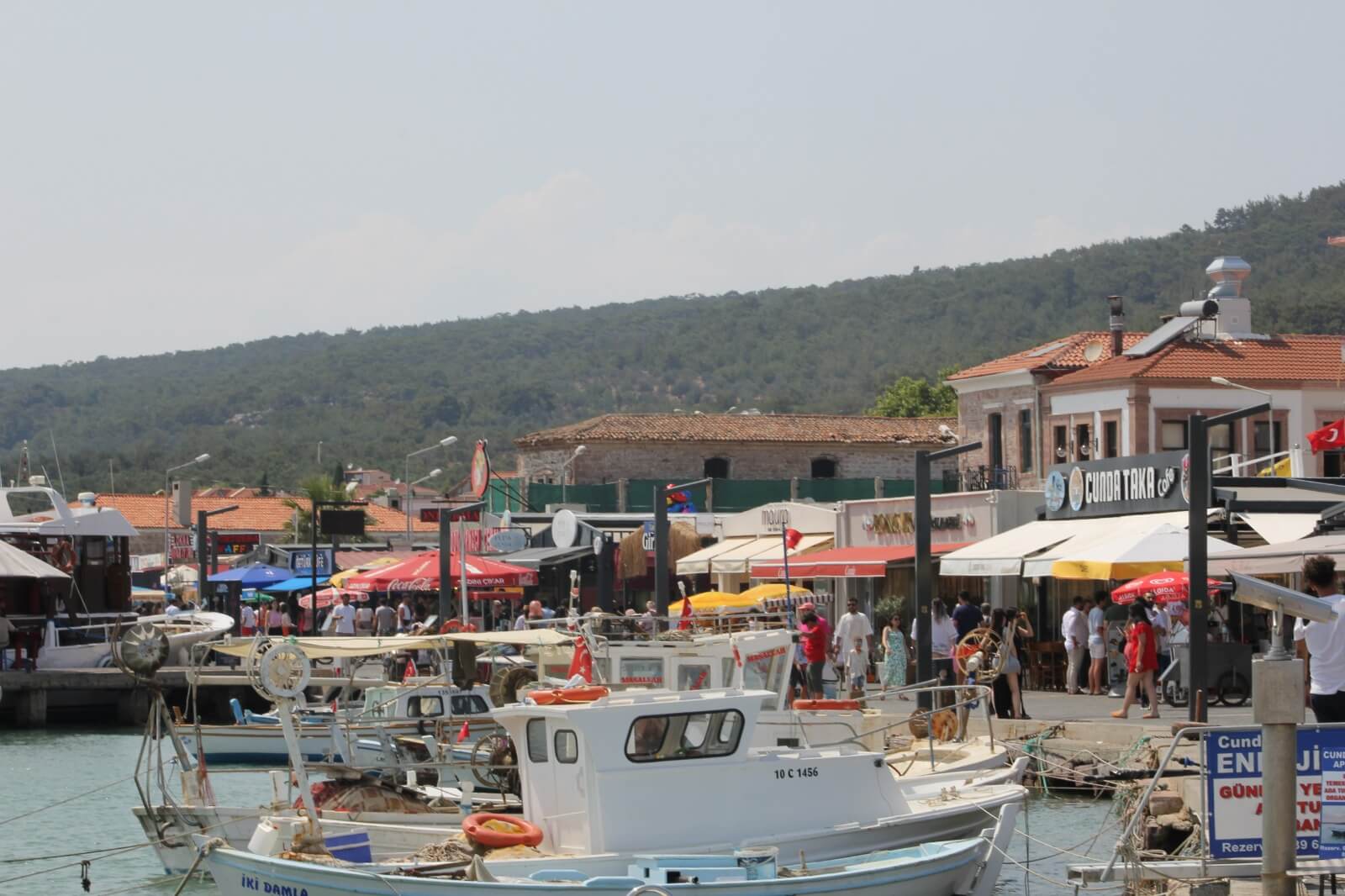 Lover's Hill (Aşıklar Tepesi)
Just 7km away from Ayvalık, located on Cunda Island, Lover's Hill is a popular location for honeymooners and romantic getaways. Known for its charming windmills, flower-lined paths, and spectacular sunset views, it's a place you must explore. You can take a break in one of the hill's cafes and enjoy panoramic views of Cunda Island and Ayvalık. Accessing Lover's Hill is easy with a short walk or public transportation.
Taksiyarhis Monument Museum
The Taksiyarhis Church, standing as an architectural testament to Ayvalık's diverse historical tapestry, has been enchanting visitors since its establishment as a Greek Orthodox church in 1844. Nestled in a part of Ayvalık once heavily inhabited by Rums before the population exchange, this monumental building has evolved into one of the most visited spots in the district due to its impressive beauty.
In 2012, the church underwent an extensive restoration that honored its original structure. Today, it hosts an array of mesmerizing paintings illustrating scenes from the life of Jesus and stories from the Bible. It also houses exquisite golden ornaments and religious icons intricately carved from high-quality marbles, accentuating its spiritual ambiance. For those touring Ayvalık, a visit to the Taksiyarhis Church is more than a mere sightseeing opportunity; it's a chance to witness the town's deep-rooted history, easily accessible by a leisurely stroll through the charming district.
Rahmi M. Koç Museum (Taksiyarhis Church)
Situated on Cunda Island, the Rahmi M. Koç Museum, once the Taksiyarhis Church, stands as an intriguing symbol of Ayvalık's layered history. Established in 1873, this former church has undergone a significant transformation to become a fascinating museum that lures history enthusiasts and curious travelers alike.
The museum serves as an engaging narrative of the local culture and history, offering a glimpse into the bygone eras that shaped Ayvalık. The intricate architectural elements of the church, coupled with the comprehensive exhibitions, make the Rahmi M. Koç Museum a must-visit destination during your Ayvalık exploration. Here, the past and present seamlessly merge, offering an enriching cultural experience that provides depth and context to your Ayvalık adventure.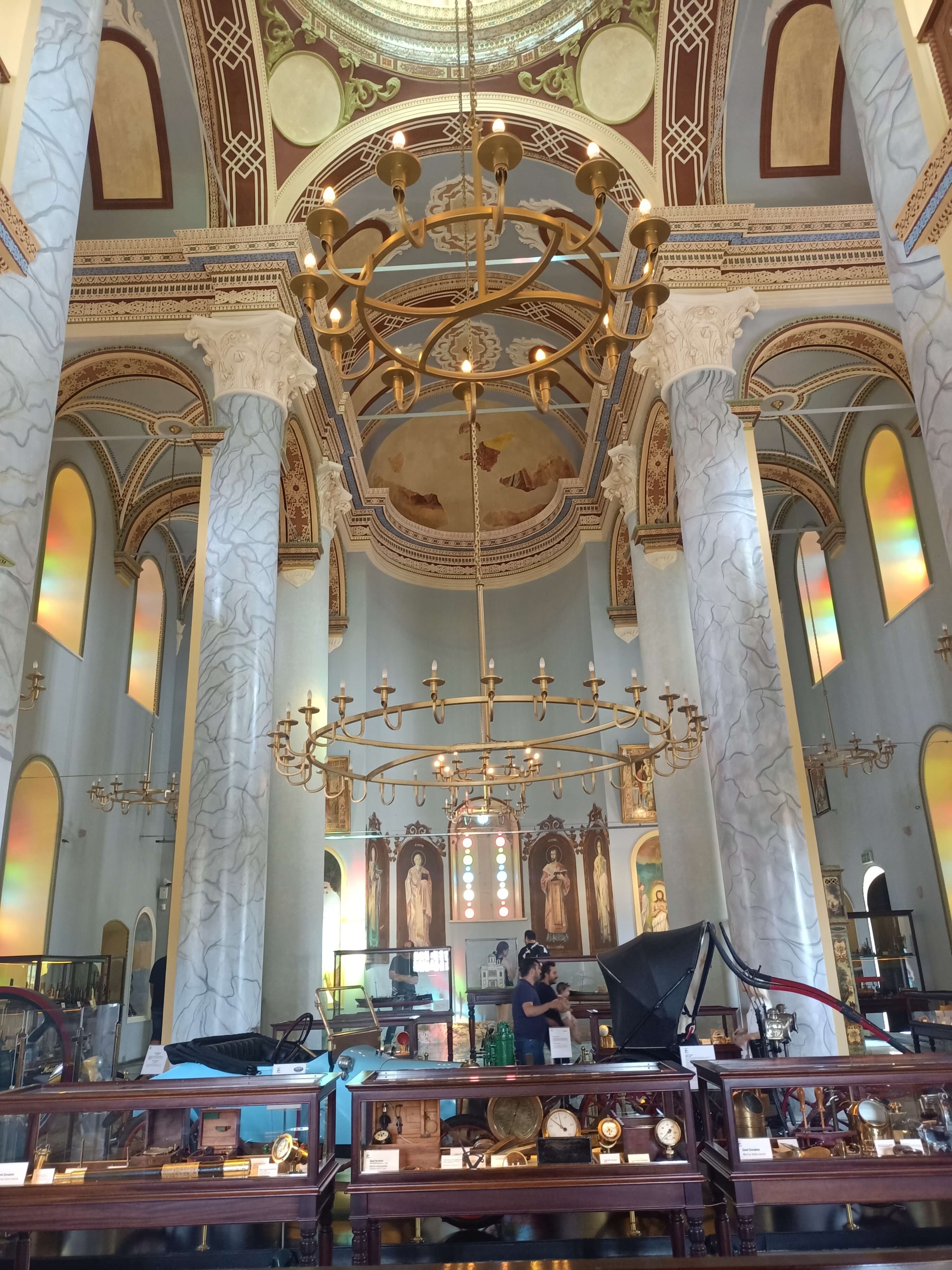 Cunda Sevim and Necdet City Library
In the vicinity of the windmills on Lover's Hill, you will find a remarkable building located at a point offering a bird's eye view of Cunda. This structure, initially a church housing Christian frescoes, fell into disrepair after the population exchange. The church was restored by the Koç family and opened for visitation as a library museum. The books donated to the museum are on display, and you can also enjoy a stunning view of Cunda from the library's cafe.
Cunda Seaside Market
The Cunda Seaside Market, which you will come across while walking on Cunda's coast, warmly welcomes those who want to buy local products. The market is filled with numerous souvenirs and local products targeted towards tourists. You'll see plenty of interesting handicrafts spread throughout the market, and you can also find food products that are famous in Cunda. Especially olive oil is widely sold, so don't leave without getting your share of the local tastes!
Historic Houses of Ayvalık
Ayvalık's historical houses, with their signature charm and architectural brilliance, are undeniably among the town's main attractions. These two or three-story houses are scattered across an area that once witnessed a harmonious coexistence of Greeks and Turks. Crafted with meticulous skill by Greek masters, these buildings are renowned for their exquisite stone and woodwork, preserving a tangible part of Ayvalık's past in their very structure.
Today, many of these historical houses have been repurposed into boutique hotels, art houses, restaurants, and cafes, bringing a modern twist to their age-old charm. As you meander through the narrow, winding streets leading up to the Aegean Sea, whether in the heart of the district center or on the serene Cunda Island, you are bound to stumble upon these architectural gems.
The allure of these houses goes beyond their unique design; it lies in the rich history they encapsulate. These edifices, once home to Greeks, have left an indelible mark on Ayvalık's character, transforming the town into a delightful canvas of history. A stroll through the lanes adorned with these homes is akin to a leisurely journey back in time, a must-have experience during your visit to Ayvalık.
Ayazma Church
Ayazma Church, or Faneromeni Church as it's also known, stands as an iconic landmark in Ayvalık, commanding the attention of both local and foreign visitors. Dating back to 1890, this significant edifice owes its name to the term 'holy water', a reference to the water flowing from its fountains, believed to hold healing properties.
Designed in the Neo-Classical architectural style, the church boasts an impressive structure constructed with locally sourced garlic stone. Despite its relatively modest area of 200 square meters, the Ayazma Church impresses with its intricately ornate ceiling and wall decorations and handcrafted stone and wood carvings. These artistic elements, lovingly designed by Greek artisans, add an air of aesthetic sophistication to the church.
Over time, meticulous restoration efforts have returned the church to its original glory, preserving its rich history and beauty. Now serving as a museum, the Ayazma Church offers a fascinating insight into the region's layered past. With its unique blend of spiritual significance, architectural grandeur, and historical importance, it has rightfully become one of Ayvalık's most visited structures.
Küçükköy
Küçükköy, a formerly abandoned Greek village, stands as an inspiring testament to the transformative power of collective vision and dedication. In the hands of a group of urban visionaries, this forgotten village has undergone a remarkable metamorphosis, earning its place in the globally emerging "Smart Village" project.
This initiative has led to significant advancements in various sectors including arts, education, healthcare, and gender equality, thereby transforming Küçükköy into an avant-garde town that is setting an example for both Turkey and the rest of the world. The town has evolved into an art-centric hub, boasting an impressive array of art centers, galleries, and museums. Its commitment to progress extends to environmental stewardship, as evidenced by its ongoing efforts to adopt sustainable energy resources.
At the heart of Küçükköy, which is now aptly named the "Art Village," there lies a strong determination to continue along this transformative journey. Conveniently located just a 10-minute drive from Ayvalık center and approximately 30 minutes from Cunda Island, this charming village offers a refreshing contrast to the faster pace of life in more urban areas.
Our visit to Küçükköy introduced us to the tranquil pace of life in Ayvalık, enchanting us with its quaint streets and local establishments. Among these, the Samta Butik Hotel holds a special place in our hearts. More than just a hotel, it served as our haven, offering a welcoming café where we relished in the rich aroma of Turkish coffee. This spot allowed us to mingle with the locals, including Yoda, a 1.5-year-old resident canine, creating a memorable chapter in our Ayvalık narrative. This fascinating town's dedication to sustainable development and cultural enrichment left an indelible mark on us, a testament to the transformative power of community-led initiatives.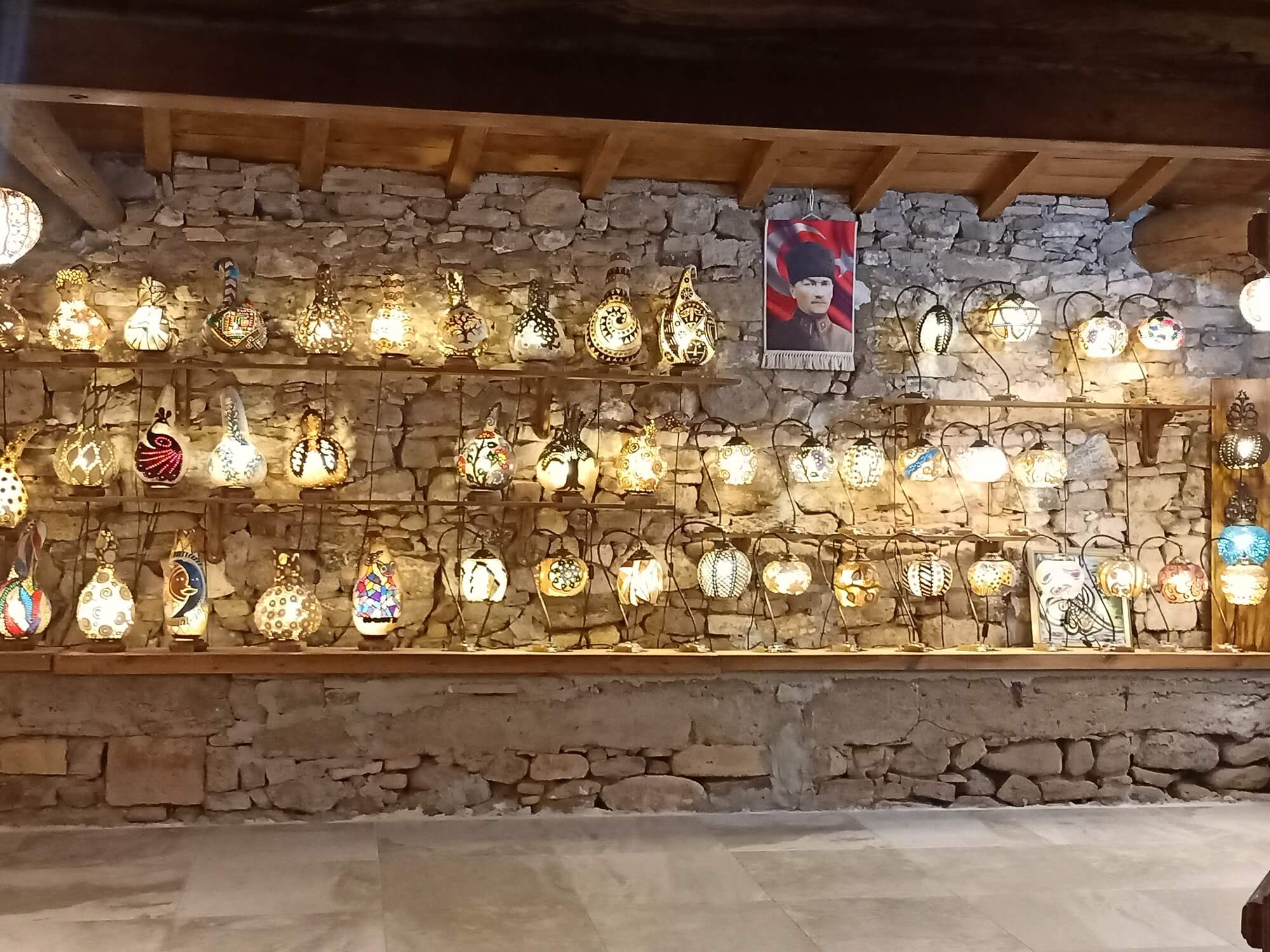 Sarımsaklı Beach
Renowned for its expansive ribbon of golden sand, Sarımsaklı Beach is the epitome of seaside splendor nestled in Ayvalık. This stunning beach, with its crystal clear, azure waters of the Aegean Sea, beckons all those seeking a serene retreat or a fun-filled day under the sun.
Stretching across eight kilometers, Sarımsaklı Beach is more than just a place to bask in the sun. It's a vibrant hub teeming with life, a perfect blend of natural beauty and local culture. The beach's proximity to the city makes it easily accessible, making it a popular spot among locals and tourists alike.
The shoreline is dotted with an array of restaurants and cafés serving delectable local fare, alongside refreshing beverages to keep you hydrated as you soak up the Aegean sun. Those seeking an adrenaline rush can venture into the multitude of water sports activities available. From jet-skiing to paddleboarding, Sarımsaklı Beach is a haven for water sports enthusiasts.
As the sun begins to set, the beach transforms into a spectacle of hues, the sky painted with strokes of orange, pink, and purple. This magical moment, coupled with the soothing sound of the waves lapping the shore, creates an ambiance of tranquility that remains etched in your memory long after you've left.
If you're planning a trip to Ayvalık, a day at Sarımsaklı Beach is an absolute must. Its captivating beauty and vibrant atmosphere offer an enriching experience that is quintessentially Ayvalık.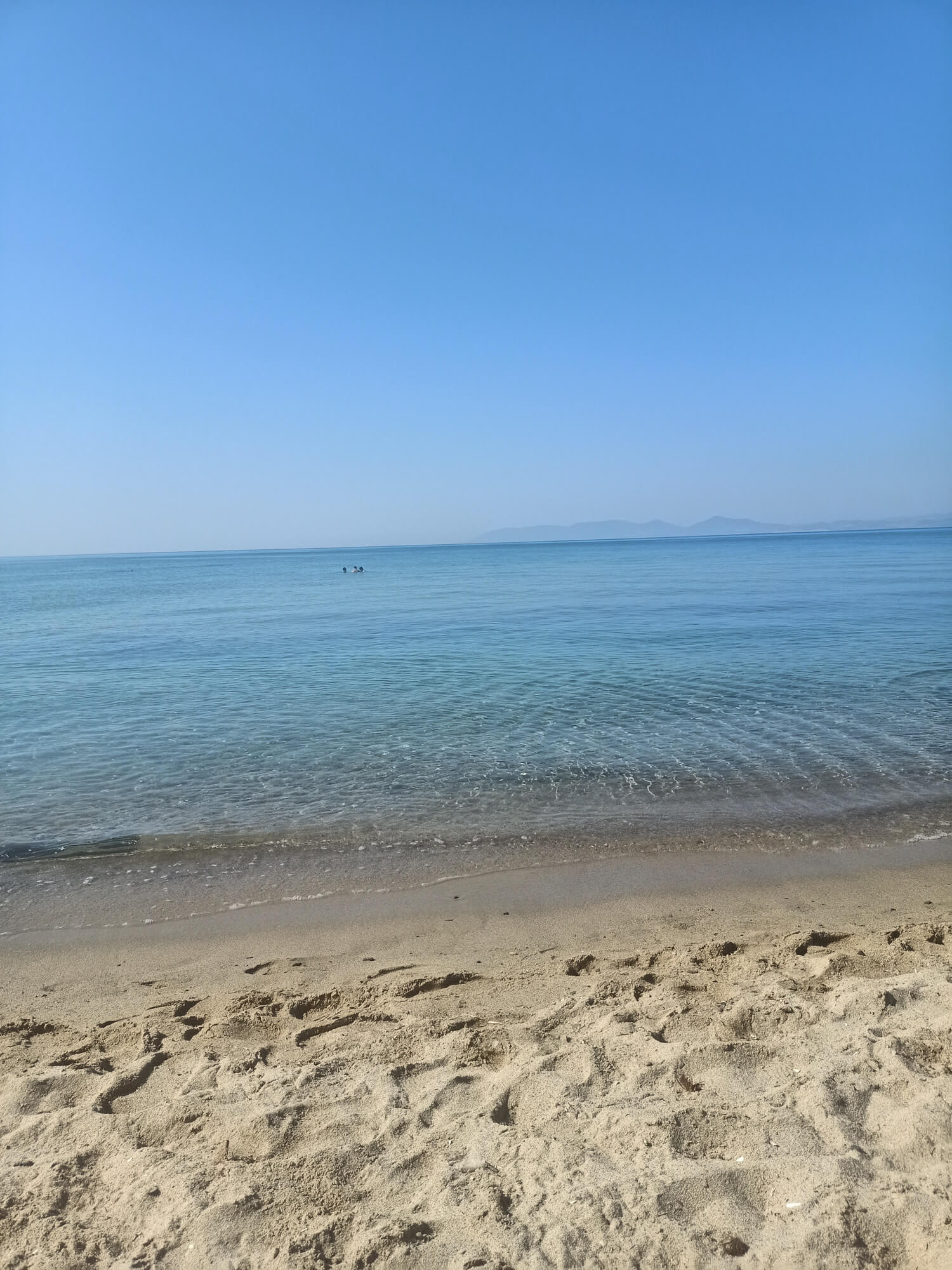 Badavut Beach
About 10 kilometers away from Ayvalık, Badavut Beach is located right across the island of Lesbos. With its golden sands, clear waters, and well-developed tourism facilities, it is one of the must-visit spots in Ayvalık. The beach is framed by pine forests on both sides and is preferred by families thanks to its calm sea. It is a blue-flag awarded beach, which guarantees a pristine environment for a refreshing dip in the summer heat. Regular minibuses from Ayvalık center take you to Badavut Beach within 10-15 minutes. Situated in Ayvalık's Sarımsaklı district, Badavut Beach is a natural marvel offering a peaceful retreat. If you prefer quieter spots, this beach is perfect for you. Its golden sands and serene azure waters make it ideal for swimming, sunbathing, or simply taking in the view.
Saatli Mosque
Saatli Mosque, originally constructed as the Agios Yannis Greek Orthodox Church, stands as a testament to Ayvalık's multicultural past. Following the population exchange in 1923, it was transformed into a mosque, embodying a fascinating blend of cultural architecture and spiritual tradition. As you step into this symbol of harmony, you are transported to a time where two cultures beautifully coexisted in the heart of Ayvalık.
Çınarlı Mosque
While wandering through Ayvalık, you'll inevitably encounter the imposing Çınarlı Mosque, a structure laden with history. Originally erected as a Greek Orthodox church in the 1790s, it metamorphosed into a mosque in 1923. Its name, meaning "Plane Tree Mosque," originates from the magnificent plane trees gracing its courtyard. The Çınarlı Mosque invites you to step into its hallowed halls, enveloping you in a rich tapestry of Ayvalık's vibrant history.
Paradise Hill (Cennet Tepesi)
Ayvalık's Paradise Hill, situated in the Armutçuk area, offers panoramic vistas that rival even the remarkable views from Devil's Table. This vantage point unfolds a stunning, expansive tableau of Ayvalık and Cunda Island. Nestled atop Paradise Hill, a charming café invites you to relax with a refreshing drink while reveling in the captivating scenery. The sight of the sun melting into the horizon, casting a magical glow over Ayvalık, is a sight to behold – a spectacle that epitomizes the heavenly charm of Paradise Hill.
Delicious Bites in Ayvalık: Savoring Aegean Delights
Our exploration of Ayvalık wouldn't be complete without a deep dive into its culinary landscape. From the famed Ayvalık toast to the traditional Boşnak börek and mantı, our taste buds were on a rollercoaster of flavors. Each bite was a testament to Ayvalık's rich gastronomical heritage that beautifully marries regional ingredients with time-honored recipes.
Indulge your senses in the culinary journey Ayvalık offers. This Aegean town is renowned for its mouthwatering local dishes, desserts, and refreshing beverages. Let's have a look at some of the must-try options:
Güler Pastanesi: Situated right at the entrance of Ayvalık Bazaar, Güler Pastry Shop, one of the town's historic dessert shops, is quite popular. From local residents to foreign tourists, expect to see long queues in front of this pastry shop. It has been delighting its customers with delicious pastries since 1942. The secret behind its success lies in the quality ingredients meticulously chosen.
İmren Pastanesi: Serving since 1954, İmren Pastry Shop is a go-to place for anyone craving something sweet. The owner, who migrated from Crete to Ayvalık following the population exchange in 1924, ensures the authentic Cretan recipes are served in their original forms.
Ayvalık Pazarı: Visit Ayvalık Market, which sets up every Thursday, to purchase the freshest fruits and vegetables.
Taş Kahve: Nestled in the heart of Cunda, Taş Kahve is an embodiment of timeless Turkish tradition. As one of the oldest venues in Cunda, this classic café has become a beloved part of the local landscape, weaving the soul of the island into its essence. Housed in a structure that bears the weight of 150 years of history, the café is as much a journey into the past as it is a delightful coffee experience.
What sets Taş Kahve apart from the rest is its stunning location. Perched on the waterfront, it boasts an outdoor seating arrangement that provides a mesmerizing vista. Savor a cup of coffee on the waterside stools, open until late at night, under the canvas of a starlit sky mirrored in the tranquil Aegean Sea.
But, of course, the heart of Taş Kahve lies in its celebrated coffee. Renowned for its famous Dibek and mastic-flavored Turkish coffee, a visit to this café turns into a sensory journey. The rich aroma of coffee beans ground in a Dibek – a traditional mortar and pestle – mingles with the unique scent of mastic, a resin obtained from the mastic tree, resulting in a coffee experience like no other.
So, as you explore the charm of Cunda, ensure you carve out time for a coffee break at Taş Kahve – a moment to pause, soak in the view, and immerse in the depth of a coffee tradition that has stood the test of time.
What Should You Try in Ayvalık?
Ayvalık is a gastronome's paradise, serving up the unique flavors of Aegean cuisine. From an array of lip-smacking Cretan appetizers and fresh seafood to exquisite sweets and regional cheeses, Ayvalık has a smorgasbord of culinary offerings to satisfy every palate. As you dive into the local food culture, here are some top local delicacies that should not be missed:
Ayvalık Tostu: Ayvalık's signature dish, this local toast is unlike any other. It departs from the conventional toast featuring an abundance of sausages and American salad, instead using tulum cheese and beef sausage to create an authentic Ayvalık toast.
Lor Tatlısı and Kurabiyesi: Satisfy your sweet tooth with Ayvalık's famous lor dessert and cookies. These delightful treats promise a taste of local dessert culture that will leave you wanting more.
Bosnian Borek and Manti in Küçükköy: As you explore the charming village of Küçükköy, don't miss out on their local Bosnian Borek and Manti. These delicious pastries and dumplings, brought to the region by Bosnian immigrants, offer a rich and satisfying taste of the region's shared culinary heritage.
Kavun İçi Dondurma: This dessert is a unique culinary experience where delicious ice cream is served in a hollowed-out cantaloupe. Kavun İçi Dondurma is the perfect treat to beat the Aegean heat, and its visually striking presentation makes it a delight for both the eyes and the palate. Sampling this local delight is a must when exploring Ayvalık's diverse food scene.
Koruk Suyu: This is a refreshing juice made from unripe grapes. A traditional regional favorite, Koruk juice offers a taste of Ayvalık's local produce.
Sepet Peyniri: Ayvalık's famous Basket Cheese, locally known as Sepet Peyniri, is a delicacy in its own right. With its distinct flavor, it's a must-try for cheese lovers.
Zeytin and Zeytinyağı: Olive and olive oil are the lifeblood of Ayvalık's cuisine. Don't forget to take home some of these local staples as souvenirs.
Papalina: A local fish species, Papalina is a favorite among Ayvalık's seafood offerings. Sample this dish for a taste of Ayvalık's vibrant seafood culture.
Meatballs: While not as well-known as other dishes, Ayvalık's meatballs promise a deliciously meaty delight that is worth trying.
Cretan Roasted Chickpeas (Girit Leblebisi): Standout among the local treats is the Cretan Roasted Chickpeas. These are not your ordinary chickpeas – they're roasted in sand, resulting in a unique flavor and texture that are simply unforgettable.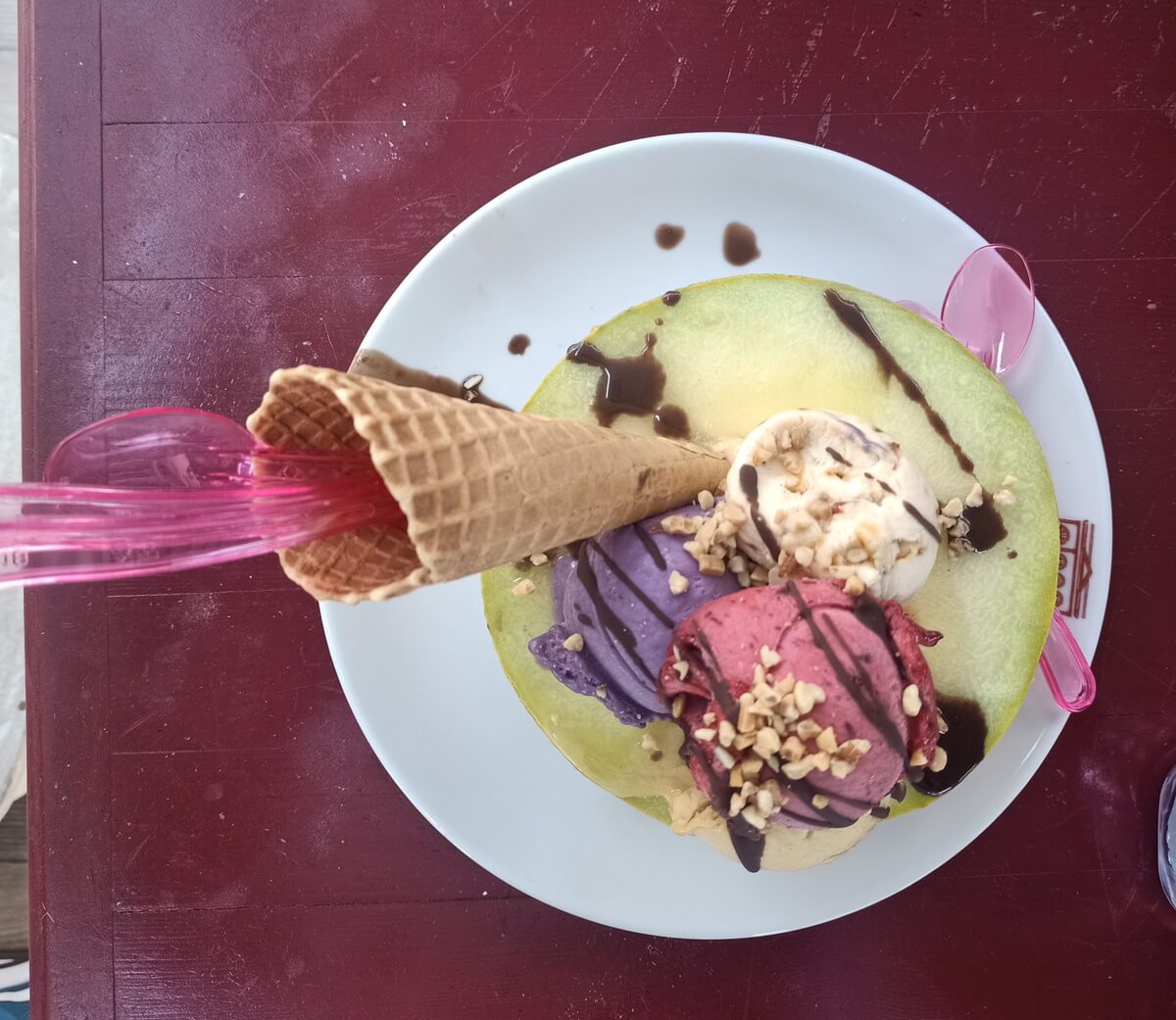 Ayvalık offers a myriad of unique and delicious flavors that are sure to impress every foodie. Whether you are a lover of sweet treats or prefer savory bites, this Aegean town has something to satisfy your cravings. Don't miss out on these culinary delights when you visit Ayvalık.
Closing
Our trip to Ayvalık offered us an enriching blend of cultural immersion, history, relaxation, and gastronomical delights. From its historical richness to its irresistible local delicacies and stunning natural beauty, Ayvalık truly is a hidden treasure waiting to be discovered. This charming Aegean town truly has something for everyone, and I can't wait to return. Until then, I hope my blog serves as an inspiration for discovering Ayvalık's unique charm and immersing yourself in its enchanting atmosphere and your future travels.
Remember, the world is yours to explore. Until next time, happy traveling!